Optima
Beautiful hot tubs, spa therapy built in
The Optima® has the best of everything, with room for up to seven adults and a variety of seat heights formed to fit diverse body types comfortably.
And with unique Fluidix™ jet configurations and more massage therapy jets for the neck and shoulders than any other model, the Optima® is our most popular non-lounge Sundance® spa model.
Experience the stress-melting, tension-relieving Fluidix™ jets, from soft, skin soothing bubbles that deliver aromatherapy to deep tissue release. And combined with adjustable jet faces, air control knobs and massage diverters, the perfect combination of relief and relaxation is right at your fingertips.
Specifications
Length:
7'5"
Width:
7'5"
Height:
37.5"
Primary Specs
Seats
6-7 adults
Spa Volume
410 US gal (1,552 liters)
Total Jets
47 (7 varieties)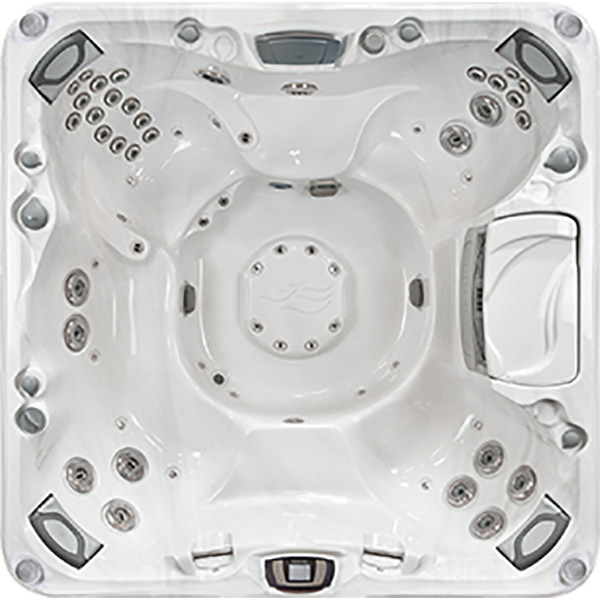 Highlights

Accu-Ssage™ Therapy Seat
This jet seat features our deepest, full-body immersion experience.

SilentAir® Injector Jets
An exclusive blower and air-only jets deliver a soft tissue massage and optional SunScents™ aromatherapy for a soothing experience.

SunTouch™ Control Panel
An advanced control that amplifies ease of use with a glowing, color, touch screen control and icon-driven menus, so programming your spa is even easier any time of day.

Illuminated Grab Bars
Safety is our priority, so we make it easy for you and your family to enter and exit the spa securely.
Colors

Celestite
Shell Color

Platinum
Shell Color

Sahara
Shell Color

Copper Sand
Shell Color

Monaco
Shell Color

Shell Color

Caribbean Surf
Shell Color

Sandstone
Shell Color

Porcelain
Shell Color

Oyster
Shell Color

Coastal
Cabinet Color

Mahogany
Cabinet Color

Autum Walnut
Cabinet Color